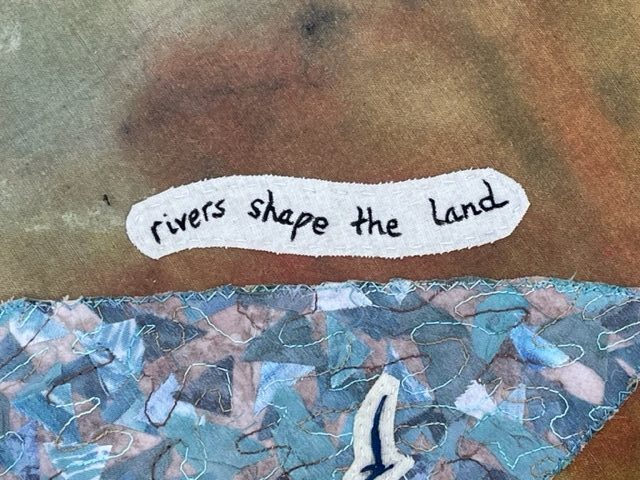 River Tours — The River Lune
Concept by Stan's Café, commission by Lancaster Arts, banner by The Sewing Café Lancaster, text by Claire Dean, performance by Orla Cottingham
We are proud to present this truly innovative and collaborative project at Litfest 2023. If you missed its inaugural performance by the River Lune on 15 October 2022, now is the chance to enjoy a theatrical tour of the river Lune, in partnership with the award-winning Stan's Café. Our tour guide, TV and screen actor Orla Cottingham, will share the wonders of the Lune, its stories, wildlife, history and chemistry, as she performs Claire Dean's engaging text in front of the beautiful textile map made by The Sewing Café Lancaster.
River Tours was commissioned by Lancaster Arts in 2022, in partnership with theatre company, Stan's Café (Birmingham), as part of the latter's international touring project of the rivers of the world. Commissioned artists included Orla Cottingham, Claire Dean and The Sewing Café Lancaster. River Tours was also supported by the Mill Race programme of Historic England.
While the banner created by the Sewing Café Lancaster from recycled materials will be on display in The Gallery at The Storey throughout the Festival, this collaborative project is only truly realised when all the elements are brought together in performance – each influenced and shaped the other and the whole project conceived and overseen by the artistic director of Stan's Café, James Yarker.
www.lancasterarts.org
www.stanscafe.co.uk
www.sewingcafelancaster.com