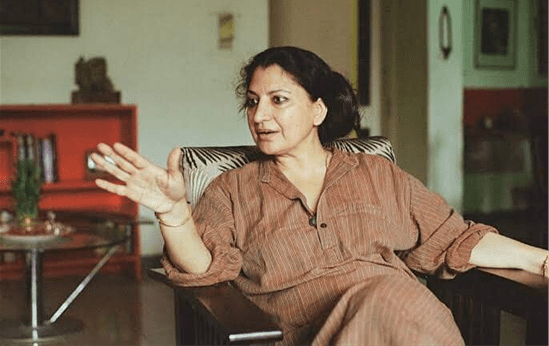 Litfest International Fiction Book Club: Geetanjali Shree – Tomb of Sand
Winner of the 2022 International Booker Prize!
The Litfest International (Zoom) Fiction Book Club was launched in response to Covid in April 2020. Since then, the club has discussed 28 books, with the writer, translator or editor. Our guests have included authors Delphine de Vigan, Andrey Kurkov and Juan Gabriel Vásquez, and translators Antonia Lloyd-Jones (Olga Tokarczuk), Sasha Dugdale (Maria Stepanova) and Frank Wynne (Alice Zeniter).
For this special edition of the book club we are delighted to welcome the acclaimed Indian writer Geetanjali Shree to discuss Tomb of Sand (Tilted Axis Press) and her story 'These Days' in All Walls Collapse: Stories of Separation (Comma Press).
'We were captivated by the power, the poignancy and the playfulness of Tomb of Sand, Geetanjali Shree's polyphonic novel of identity and belonging…This is a luminous novel of India and partition, but one whose spellbinding brio and fierce compassion weaves youth and age, male and female, family and nation into a kaleidoscopic whole' –Frank Wynne, translator, writer and 2022 International Booker Chair
Geetanjali Shree is the author of five novels and several story collections, Her work has been translated into English, French, German, Serbian and Korean. She was born in Mainpuri, India, in 1957. Tomb of Sand is the first of her books to be published in the UK. She has received and been shortlisted for a number of awards and fellowships, and currently lives in New Delhi.
"The Litfest International Fiction Book Club has reignited my love for reading. It has opened my eyes to different cultures and a whole new world of fiction"-Lisa Keys, Lancaster
The Litfest International Fiction Book Club is convened by Bill Swainson (Litfest) and Sam O'Donoghue (Lancaster University), and supported by the Fondation Jan Michalski